Are you looking for a fun and exciting way to spend your day on the lake? Consider renting a boat! Lake boating is an excellent activity that can provide hours of entertainment for individuals, couples or groups. Whether you're new to boating or have experience, there are several things you should know before setting sail. Here's everything you need to know about lake boat rentals.
Introduction to Lake Boat Rentals
If you've never rented a boat before, it may seem daunting at first. However, most marinas offer easy-to-use boats that even novice boaters can operate with ease. The process typically involves filling out some paperwork, paying a fee, and receiving instructions from the staff on how to use the boat safely. Some marinas also require proof of boater education certification or a driver's license as part of their safety protocol. Once you've completed these steps, you'll be ready to hit the water!
Types of Boats Available for Rental
There are many different types of boats available for rental depending on what type of experience you want to have. For example, if you're interested in fishing, you might consider renting a pontoon boat or bass boat. If you're more interested in speed, you could try renting a jet ski or powerboat. Other popular options include kayaks, canoes, and standup paddleboards (SUP). Make sure to research the different types of boats available and choose one that best suits your needs.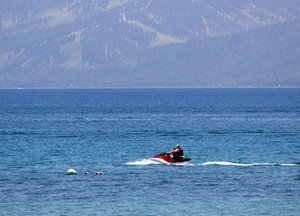 Safety Tips and Regulations
Before hitting the water, make sure you understand all the necessary safety tips and regulations. This includes wearing a life jacket at all times, following local boating laws, avoiding alcohol consumption while operating a boat, and ensuring any passengers under 13 years old wear a properly fitted life jacket. It's also important to check weather conditions prior to leaving shore and bring plenty of drinking water and snacks. By taking these precautions, you'll ensure a safe and enjoyable trip.
Best Time to Go Lake Boating
The best time to go lake boating depends on personal preference and local climate. During the summer months, lakes tend to be busier due to warmer temperatures and school breaks. If you prefer less crowds, consider going during the early morning or late evening when other boaters may not be out yet. Additionally, keep an eye on weather forecasts and plan accordingly to avoid inclement weather such as thunderstorms or high winds.
Things to Consider Before Setting Sail
Before setting sail, there are several factors to consider including the size of your group, duration of your trip, and budget. Larger groups may require larger boats which can increase costs. Similarly, longer trips may require additional supplies like food and water. Be sure to factor in these variables into your planning so you don't encounter unexpected expenses later on. Finally, remember to pack sunscreen, sunglasses, and hats to protect yourself from UV rays while enjoying the beautiful views of the lake.
In conclusion, lake boat rentals provide endless opportunities for adventure and exploration. With proper preparation and knowledge, anyone can enjoy this thrilling pastime responsibly. So grab your friends and family, head down to the nearest marina, and get ready to set sail on your next great journey!